Does Local SEO Really Work?
Well, Let's take a look a few Trumpet Local Media clients from 5 years ago.
In 2010, Helen Knight had learned of me and called. She was an "Energy Healer" in Boulder and was just starting out to create an actual healing practice at it. As is common with most "healers" the key is to ACT like a brick-and-mortar business, even though you might work out of your home, or relocate often – or meander wherever the wind is blowing. I stressed this up front with Helen. If you want to spend this money on Local SEO, your business address/phone must stay consistent, otherwise you will need to start all over again with a new phone #. "Got it! Let's Go."
So off to the races we went with her business Dreamtime Healings. The first step was to determine what she offered, specifically, and then match that with what the keyword research revealed. The overall winner was the word "Reiki" and related phrases. "Well, that's not really how I'd describe what I do," She said. "But if someone  is searching for Reiki in Boulder, CO, is it appropriate for your business to show up in the search results?". Of course it is.
For years now, Helen has been maxed out at 20+ clients per week and she's even struggling to meet demand for her services. Here are the search results today: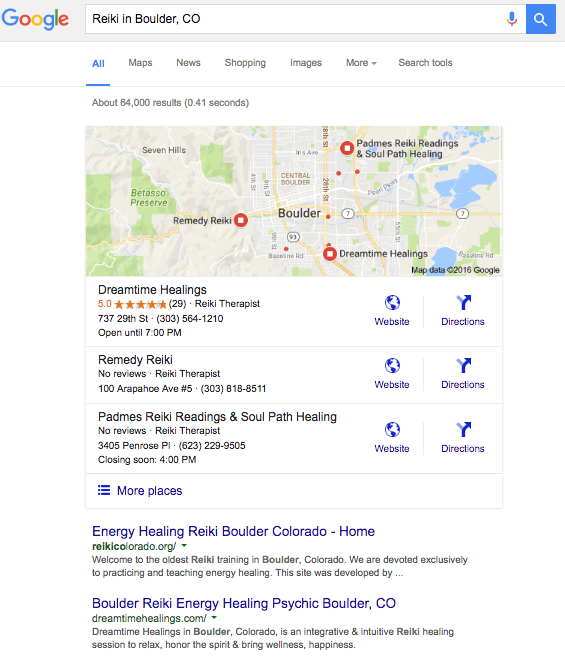 Get Specific about what your opportunity is for Local SEO
More appropriate for Helen is that she does her own style of "Energy Healing" and while she may have training in various healing modalities, we each have our own unique gift. You'd be surprised how many people are searching for variations of energy healing in Boulder. Let's take a look at how Dreamtime is doing online now: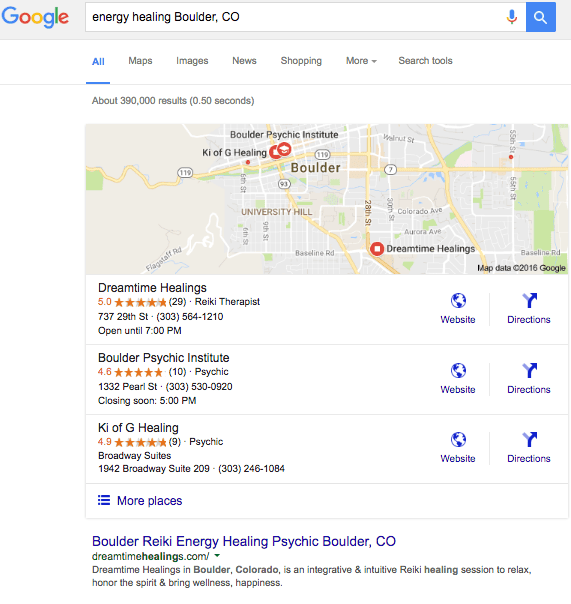 Just to be clear – when your business ranks #1 in the local pack for multiple search phrases – YOUR PHONE WILL RING. Hats off to Helen for spending the money on Local SEO years ago and doing all the work to build her business since then!