Where does Siri get her information?
Most people won't even ask this question or even wonder. It goes like this:
"This is my awesome new iPhone. I trust Apple. I trust Siri. Look at this killer packaging! I'm hungry. I need food now – near me."
But where does she get her information? Apple is a direct competitor of Google and billions for dollars are at stake. To search on the internet on your iPhone, you'll need to download Google's apps to do that. Siri uses Apple Maps to give you answers to your questions about what is "Near Me". Don't believe me? Just ask Siri.
It goes like this:
Today I was inside Melvin's Market in Sisters, Oregon. I was in line with my local raw honey and two avocados when I asked Siri to find a "Grocery store near me."
Siri has no idea the Melvin's Market even exists.
Melvin's does not have an Apple Maps listing.
Siri is sending me
1) .08 mi down the road to Melvin's competitor, or to
2) an ice cream shop down the street that is miscategorized as a grocery store, or to
3) some General Store at Black Butte Ranch that might have nightcrawlers and Bud Light but probably not what I'm looking for.
A voice search on Google's app on my iPhone shows me much better results.
I know Melvin's Google listing would appear since I helped Melvin claim his listing and optimize it.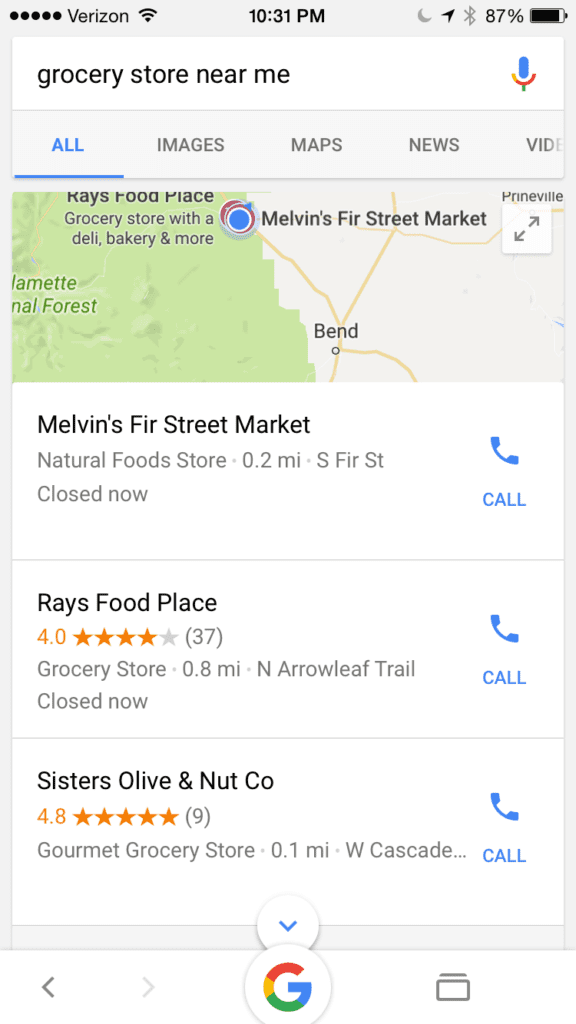 (Disclosure: This Google screenshot was not grabbed inside Melvin's earlier today. I did this just now while writing this blog post and yes, I'm .2 miles away).
The bottom line is this:
If you have a business and want people to find it – make sure it's listed (properly & accurately) on Apple Maps.
If you just unwrapped your shiny new iPhone, make sure you know when to ask Siri for answers and when to ask Google. It might just make a big difference for you.
And then, go ahead and spend a few minutes without your phone, enjoying nature and actually talking to real people in line at the grocery store. 🙂