Where do your business attributes come from?
Short Answer: You!
There has been considerable anticipation of the broader roll-out of business "Attributes" on Google. In 2016, Google launched this feature in the Google My Business dashboard beginning with dining details for restaurants and then a more general attribute for "Wheelchair Access".
Today I was on Google Maps on my phone to call the Sisters Athletic Club to see if they were open. It was a snow day here so schools were closed and many businesses were closing early. I looked down and saw this small box at the bottom of the screen asking if I knew this place. Here's the screen: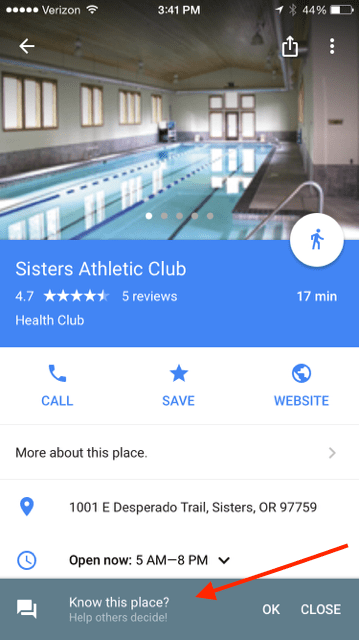 I just HAD TO click it. But the wording is so bizarre. "OK" or "CLOSE"? Oh well. I clicked on "OK" and Alas! Google is collecting attributes from me about this business. It's widely accepted that Google does not trust business owners to submit accurate data. Google trusts other sources, including themselves, far more. Again Google is playing catchup to Yelp by offering customers to submit additional data to their business listings. This appears to be a full roll-out so we can anticipate a rush of new attributes to appear in Google business listings.
Here were the questions I was asked (These are likely based on the categories listed for the business).
Are you seeing this too? Do you have any incentive to submit data to Google? Yelp is a community of Yelpers and is more of a "Culture" – Yelpers helping Yelpers. On Google? Would you give Google these precious extra :15 secs of your day?
Please share your thoughts in the comments below.