Melvin's is a small healthy grocery store on Fir Street here in Sisters, Oregon. And it's really a special place. Everyone loves Melvin's and it's owner, Melvin Herburger. You can hear live bluegrass music while enjoying some of the best soup you'll ever have. And on the shelf you'll find a few products my wife & I have requested to be stocked. My kids draw art for Melvin and he tapes it up on the walls at the cash register. We visit almost everyday for one reason or another.
Last Winter, my wife sent me to Melvins after dinner to fetch some baking ingredient. I didn't know what time they closed so I looked it up on my phone. Google Maps. Uh Oh. I couldn't find Melvins. I searched a little deeper and saw some posted hours – open until 8pm. I arrived at about 7:30 and they were already closed. Ugh. I headed across town to Ray's (Similar to Safeway but more expensive).
Like many businesses in this small town, Melvin's had some serious problems with their web presence. I was probably not the only person affected by it – but I knew how to fix it. He has a very basic website, but in this town – for this type of business – having a website is less important than having accurate business listings. So on my next visit I cornered Melvin and showed him what happened when I search for "Grocery Store Sisters, Oregon" from inside his grocery store: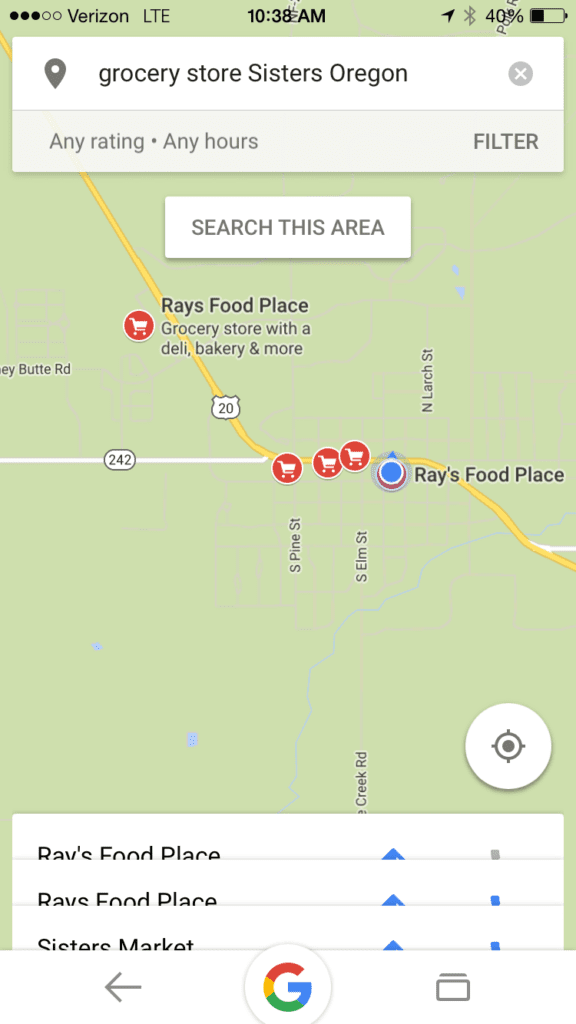 Yikes! Not only was his Google listing not showing, his location was incorrectly displaying his main competitor – at his address!! He agreed to let me sit with him at his computer to fix this problem. Here's Melvin in one of his trademark Hawaiian shirts editing his listing on Google.
Melvin is a lot like many other small business owners in their 50's. Successful at running the actual business, but n0t particularly savvy at web marketing. Sisters is a small town so everyone knows everyone and they know where Melvin's is. But tens of thousands of travelers drive through this lovely tourist town and they're all using Google and Yelp to find what they need. Do they know Melvin's exists?
I took some photos with my phone and added them to the listing and updated the categories and after about 24 hours, thanks to a verification-by-phone option, the Ray's listing was gone and the Melvin's listing was showing. Melvin's was all set on Google.
I did need to remind Melvin to change his hours when Summer arrived, but he responded quickly. And over these past holidays he did not add special hours to his Google listing. But who could blame him? Grocery stores during the holidays can get wild & woolly. He doesn't spend all his time online and likely doesn't use Google Maps much – or even ever. He has no idea the special hours are now available on Google and Yelp.
Before I left I said, "Melvin, can we take 5 minutes to claim your Yelp listing?" and he flinched and resisted in fear of what bad reviews he might find on Yelp. So many business owners are afraid of Yelp! This town is full of cars from Portland, which is full of tech-savvy Yelpers. When we took a look and claimed the Yelp listing – he was relieved to see 15 positive reviews and I showed him how to respond to Yelp reviews. I said, "If you get a bad review, call me. I'll help you turn it into a positive thing for your business." We added the photos and some spectacular Yelp attributes and now Melvin's is all set on Yelp – showing up properly and attracting new customers to his awesome business.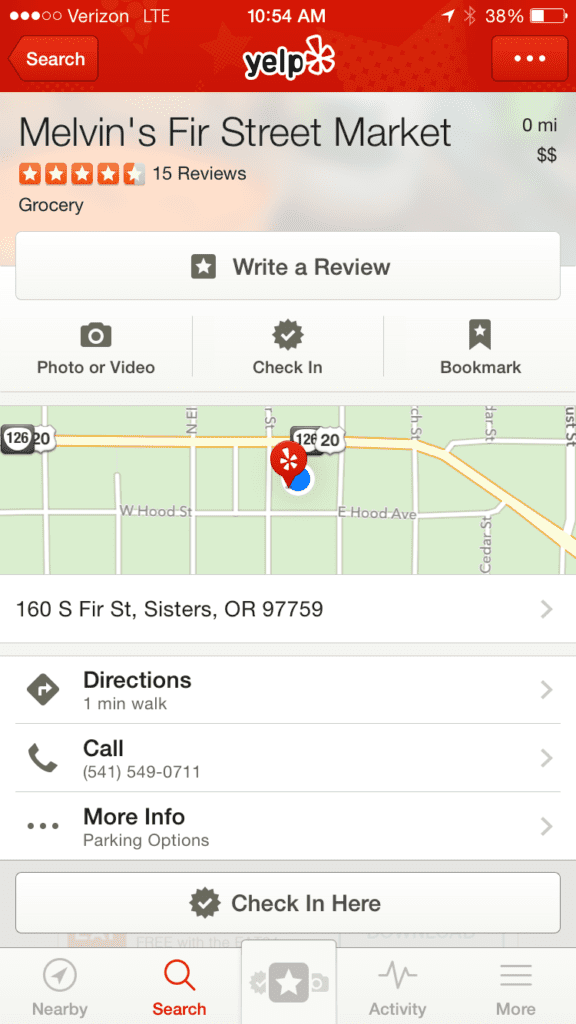 And the next time you come through this town, stop in to Melvin's for a visit. The soup is just awesome. And so is the artwork!